This Is Beautiful (Checkmate Duet #6)
Author: Kennedy Fox
Publisher: Createspace
Published: September 2017
Format: ARC Paperback
Pages: 414
Rating: 5/5
Summary:
Kayla Sinclair is a saint and real life Angel.
She wears her heart on her sleeve and inspires me to be a better person.
Rescuing dogs, feeding the homeless, volunteering at the local food pantry are just a few of the ways she gives back to others, although no one has ever been there for her.
Falling for her was inevitable, losing her will destroy me.
Letting someone in didn't come easy, but she made me want to try for the first time in years.
Her bubbling personality and kind spirit make it impossible to forget a girl like her.
But when tragedy strikes and she loses all memory that our relationship ever existed, my worst nightmare comes to life.
I'll do anything to remind her of the love we shared. I know it'll be an uphill battle, but I won't walk away without a fight. Whoever said all is fair in love and war never played by my rules.
Checkmate
, Angel.
Review:
Once again, Huge apology to the ladies of Kennedy Fox for the delay on my review of yet another amazing book! But thank you so much for a copy to review for you! I am never disappointed when it comes to reading your novels! I mean just when you think you've found your favourite, they come out with another book, and you're sitting there trying to figure out who your favourite "Ship" is. Hard to pick, but I do love dogs, so...
If you haven't read the first book in this duet This Is Dangerous I am highly suggesting you do so! This review may have some spoilers based on the last book as well, so here's your warning now! If you don't mind a little spoiler, then keep reading, but I'll try to refrain from spoiling the entire book for you.
Going straight from the last book, you're completely diving right into this one. The cliffhanger that Kennedy Fox leaves you in, I couldn't recover from it, so I was super happy to have had both books to just binge the rest, because that was so unfair!! Anyway back from that ramble! You totally get sucked into it. Wanting more, but slowly getting pieces of it the entire time.
Okay so there is this major incident that happens in the book, and for those of you who have read it will know what I'm talking about. I found myself for a good portion of the novel yelling at Kayla to just have this one thing happen/ come back to her, but of course it wasn't possible.

Throughout the entire novel, I found myself on the edge of my seat, devouring every single page! I mean the connections that Kayla and Logan have, even with the setbacks, you can tell are true and long lasting. I loved reading more of his perspective in this book, because you kind of get more of a sense with his own job, and how he see's Kayla too.
HOLY SMOKES! Just when you thought they had tamed a bit, here we go with some more steaminess and it just doesn't stop! Man oh Man, I feel like you ladies need to produce a fan or something for every KF Instagram Box, because really....
SPOILER ALERT!! I mean not entirely, but still I figure I would put that there. So let me say that the connection between Skylar and Kayla is so beautiful! It's something that you would watch in a movie, and same with Logan and Skylar. When you read about Logan with Skylar, I swear I could picture it so clearly, and I was just in awe. The connections they all have, is so relatable, and heartwarming!
"It's almost as if our hearts built a bridge to each other, while trying to mend the broken one."
Of course I found so many quotes throughout the novel, but here are just a few that kind of caught me...
"I didn't think I'd get over it. I felt like every part of my heart had died with him, but I'm still here. I guess the moral of this story is life keeps going regardless of the pain we endure."
"Life is too short to spend every day being miserable making someone else rich."
"I feel like a burden in my own skin, and I'm getting lost every time I try to crawl out."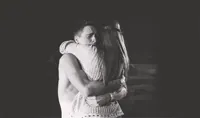 Overall this was a great ending to an entire series. It was bittersweet to kind of say goodbye to all of these characters, because they really make an impact, and you can't help but feel all the feels (And there's plenty of them!) for every single character throughout the series. It truly was a non stop roller coaster ride of emotion, and always leaving you wanting more. It was War, Love, Reckless, Effortless, Dangerous, and above all it was Beautiful. Checkmate♛.

That's all for my review of This Is Beautiful. I hope you enjoyed it, and trust me when I say, you really want to add this entire series to your TBR, and definitely recommend reading them all in order!
So until the next time, Keep Reading!
Your Graduated Bookworm!! :)