Pushing the Limits
Author: Brooke Cumberland
Published: January 2022 (First published September 2015)
Publisher: BC Books
Format: Paperback
Pages: 414
Rating: 5/5
Summary:
He's my art professor.
I'm his student.
With an electric connection and undeniable chemistry, I know it won't be long until one of us cracks.
When the opportunity arises to pose naked for the entire art class, I can't help the thrill of knowing he'll be watching me.
While they all look past me with their eyes narrowed and concentrated, drawing only the lines and angles of my body, he sees right through me down to my vulnerability.
He sees more than just the physical aspects—he sees
me.
That's when I see the struggle in his features as he tries to stay in control.
How do we keep our distance when everything seems to be pulling us together?
What feels so right can only go wrong if we keep pushing the limits.
So first, how did I sleep on this book for SO LONG! I swear this has been on my shelves and probably in my kindle for a while since it was first published back in 2015... am I kicking myself for that. Yes. Am I glad I finally read it this year? Hell yes! This has made it to my top faves for 2023 reads, so let's talk about it!
You'll want to check your triggers, but for me, it was fine.
Right from the beginning you get sucked into this world of Aspen and Morgan. Sure they shouldn't want one another and clearly forbidden with a professor and student, but we're all adults here and you know when something is off-limits, you're bound to do it - or him - anyway!
This was a slow burn for sure though, because you can sense their hesitations, knowing they shouldn't be together. Knowing that if anyone found out, some serious consequences could happen. But apart from the slow burn of glances, soft touches, close encounters, and staying after class... there's an underlying story of growth and love for Aspen.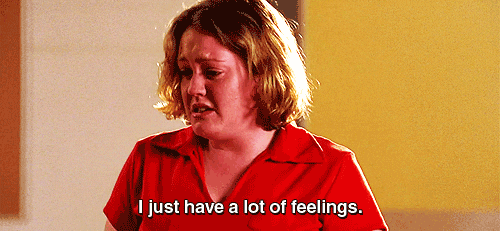 Aspen has a lot going on, and it's not easy. Mental health plays in her life whether she likes it or not, but when you start to read on, you notice the ways that Morgan is there for her. He sees her deeper than just the surface and helps her cope with her battles as if they're already one. I could definitely connect with Aspen, and I think thats part of the reason I was so drawn to her and her story.
But as the story progresses, you know damn well things are about to get spicy! And they did! Holy Hannah, get me a fan because this professor knows a thing or two... But it's not a Brooke Cumberland book without some EMOTIONAL DAMAGE! Legit, I was messaging her my reactions as I was reading, and all the damn highlighting and tabbing this woman had me doing because it was just so emotional!

Not to mention Natalia. Oh this sweet little girl so easily stole my heart and Aspens. I became a puddle on the floor needing to be mopped. The connection between the three of them was just amazing, and you could see they're meant to be! Even though they're all struggling in their own ways, this story was so much more than a steamy romance. This was about love, loving again, and healing. This was perfection!
Now without spoiling, theres a section in the book that had me. The packages. If you've read this then you'll know. This emotional roller coaster that was Pushing the Limits had me in a choke hold, and I was here for it. She ripped your heart out, and put it back together.
So after reading the physical copy, Brooke recently got her audio rights back and had the audiobook redone with dual POV narrators, so I received a copy to listen. The narrators, Ryan Stone & Vivienne LaRue did an amazing job with this story. Not only were they able to narrate all the characters in their own unique voice, but you could seriously feel the emotion coming through their voices during the most heartbreaking moments in this book! Considering I don't listen to audiobooks often, I was drawn again to this story in another way. It was amazing!
Overall, this is a favourite read for 2023. The emotion, the mental health, the love and steam all packaged into a novel with a bow on top. It was raw, deep, passionate, honest and just amazing! These characters will definitely be living in my head rent-free and I will be doing a reread soon!
That's all for my review, I hope you enjoyed it! Be sure to grab a copy and add this to your TBR!
So until the next time, keep reading!
Your Graduated Bookworm!! :)