Hitching the Cowboy (Circle B Ranch Series #1)

Author:
Kennedy Fox

Published:
November 2019

Publisher:
Kennedy Fox

Format:
E-Book

Pages:
260

Rating:
4/5

Summary:
Wedding bells are the last thing on twenty-two year old Riley Bishop's mind, but that's exactly what he hears after waking up in Vegas next to a woman he just met—his new wife.
He never saw her coming, but she might be worth the risk.
Zoey Mitchell is high on life, free spirited, and adventurous. However, learning she married a rowdy cowboy after a night of partying is not what she expected—even for her.
She's risking it all, gambling with her heart.
Deciding to give their instant marriage a chance, Zoey moves from her big city life to a small town Texas ranch. She has to know if their connection is based on more than just a wild one-night stand before announcing to her family that she got hitched.
One moment changes everything—for better or worse—and a secret could destroy them both.
**This is a full-length stand-alone novel in the Circle B Ranch series and is a second-generation spin-off from the Bishop Brothers series. You don't need to read any of the other books beforehand to enjoy this one! Suggested for mature readers only.**
Review:
So if you don't know, Hitching the Cowboy is book 1 in the Circle B Ranch series which is the second generation of the Bishop family! If you haven't read the Bishop Brothers (First generation) I HIGHLY suggest reading it first, because it just flows way better. That being said, you totally don't have to read them in any order, it's just a better reading experience if you do.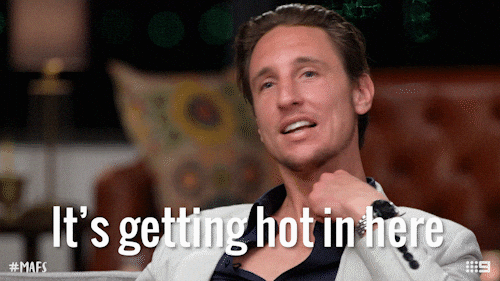 Alright, getting onto this review. I mean cowboys, large family dynamics and hilarious moments... say less! This was a great start to the second generation, and let me tell you the apple doesn't fall far from the tree. IYKYK!
From the beginning to end, I could not stop reading Riley and Zoey's story. I mean waking up being married and then moving to his ranch to see if their connection is real is not something I'd do, but man between the sweetest moments to the real spicy scenes, Hitching the Cowboy was a page turner!
Personally, I felt like there was a good amount of growth for Zoey, and you really see her start to stand up for herself and the life she wants compared to what others want for her. There was definitely a moment that caught me off guard but damn it was such a good twist!
Overall, this was an emotional roller coaster, fast paced and kept me wanting more. It doesn't get any better than being on the ranch with all the Bishop family and their usual antics! If you're looking for a new series to start... get your hands on this and binge read it today!
That's all for my review, I hope you enjoyed it! Be sure to check out the Circle B Ranch series!
So until the next time, keep reading!
Your Graduated Bookworm!! :)