Author: Jacquelyn Middleton
Published: October 2021
Publisher: Kirkwall Books
Format: ARC Paperback
Pages: 312
Rating: 4/5
Summary:
THERE'S SOMETHING ABOUT DECEMBER…

Madeleine Joy is feeling more meh than merry. When an Icelandic volcano erupts six days before Christmas, hazardous ash congests European airspace, canceling flights indefinitely—including the thirtysomething's connection to Paris. Stranded alone in London, separated from her sister, and with the devastating one-year anniversary of her best friend's tragic death just days away, Madeleine has never felt less festive. And as if things couldn't get worse, the cute guy driving the cab to her hotel won't shut up about carolers and tinsel…

Julian Halliwell is one of life's sunny optimists. A former music journalist, he's embraced his love for London by starting his own black cab business, enthusiastically ferrying passengers from one historic landmark to another. But life hasn't always been easy for Julian. Having navigated several life-changing setbacks including a cruel betrayal by his former fiancée, Julian remains hopeful that he'll meet somebody kind, who shares his love of music, his corgi named Winnie, and of course, the magic of Christmas time in London.

Despite being an unlikely match, fate seems determined to throw them together. But can the grieving American find joy again in a world where the lights have all but dimmed?

Review:
First I'd like to thank Jacquelyn and Kirkwwall books for sending me a copy in exchange for an honest review! Also apologies for a very delayed review, as I'm trying to catch up!
Now, like I've said before... I am not a fan of 3rd person POV. It's just something I can't really get into when it's written that way. Apart from that, this was such a good holiday romance!
So from the beginning, you dive right into Julian and Madeline's story. Someone who hates this time of year because it's the anniversary of her best friend's death, and the other who has been hurt by another, but remains hopeful to meet someone. Throw in a corgi named Winnie, Christmas in London and you've got a mix for a great wintry romance!
I do think there were parts that could've been trimmed up, however I really enjoyed the aspects of mental health that Jacquelyn wrote into this novel. I think it's important to have these types of topics that aren't always written, and I enjoyed
reading about it and how the characters felt and went through it.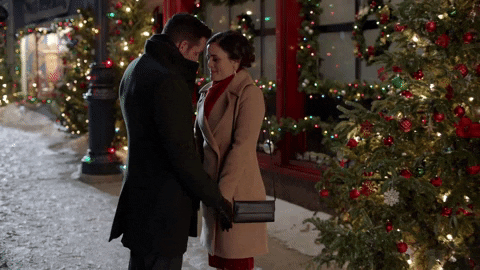 Something about Madeline and Julian's story was that it's just the perfect cozy, Christmas read and I was sucked into their story. I couldn't stop reading, trying to find out what would happen when her time was up and she was able to get a flight out of London to be with her sister. It was also fun to read about all the places Julian was taking her to and getting almost an insiders vibe into London. It felt like I was there and living it, even though I've never been to London. And the slow burn between these two... man oh man!
Overall, this was a cute story! Julian's friends took Madeline in as if their own, it almost gave me vibes from the scene of Bridget Jone's Diary where they're all sitting around for her birthday. The holiday vibes mixed with an adorable corgi, I couldn't put it down!
If you're looking for a cute and fluffy read with the holiday vibes, a bit of a touristy aspect, and of course romance with a mix of mental health... then check this out!
So until the next time, keep reading!
Your Graduated Bookworm!! :)