All The Bright Places
Author: Jennifer Niven
Publisher: Knopf
Published: January 2015
Format: Hardcover
Pages: 400
Rating: 5/5
Summary:
Theodore Finch is fascinated by death, and he constantly thinks of ways he might kill himself. But each time, something good, no matter how small, stops him.
Violet Markey lives for the future, counting the days until graduation, when she can escape her Indiana town and her aching grief in the wake of her sister's recent death.
When Finch and Violet meet on the ledge of the bell tower at school, it's unclear who saves whom. And when they pair up on a project to discover the "natural wonders" of their state, both Finch and Violet make more important discoveries: It's only with Violet that Finch can be himself—a weird, funny, live-out-loud guy who's not such a freak after all. And it's only with Finch that Violet can forget to count away the days and start living them. But as Violet's world grows, Finch's begins to shrink.
Review:
MY OH MY!! I have been wanting to read this book ever since it came out! I'm so happy to finally have gotten my hands on this beauty and have read it right away (sorry other books...) I also need to address the fact that Jennifer Niven now has the title of making me (@thegraduatedbookworm) honestly cry real tears from reading a book. Some of you who know me well, know that it takes A LOT to make me shed real tears, as opposed to other feels (which I do still get!) So hats off to you Jennifer Niven for being the one author who has accomplished this goal!
I hope this doesn't make me sound like I have no heart or emotion when reading emotional books! Believe me when I say I fully feel every kind of emotion and even pain in my heart or my stomach drop when a scene happens. Getting me to cry however is something I have never been able to do.
This was definitely a roller coaster of emotions. The story starts off very strong, and you may feel like Finch is a little too much. The more you get into the story though, you understand what is going through his head every day, which explains the way he is to some extent. To be honest my notes are mainly a lot of quotes, because I found this book to be totally inspirational and it really brings out a lot of you as a person.
Of course while reading this, I was kind of expecting something to turn out the way it did, but never in my life did I expect it to be right, and for it to be the way it ended. Jennifer Niven wrote this so beautifully and I admire every word she wrote. I know a lot of people deal with their own issues, and you never really know what a person is going through, and it made me realize more that you always need to be careful with the things you say. I myself have my own issues that only a few very close friends and family know about, and to be honest, I found this book to be very freeing for myself. Of course I have bad days...who doesn't! But knowing that not all of them are bad, make up for those dark times!
Throughout the story, I really loved the interaction between Finch and Violet. I really enjoyed the fact that there was the use of Facebook to interact with one another. The messages they sent were so sweet, quoting from books or authors, and it made the connection more realistic. I also really love how witty and funny some moments were. Of course the book is meant to tackle serious issues of Mental Illness, but having light moments really showcased that there really are bright places in the world. (See what I did there? haha!)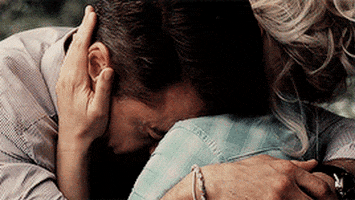 After reading this, I just kind of sat on my bed wondering what to do next. So many emotions were going through me. Anger for the fact of what happens towards the end. Sadness and heartbreak for Violet with everything she had gone through from the beginning to the end of the story starting with the loss of her sister. Emptiness over not knowing what to do or how to even feel/cope with it. I honestly sat there with my arms at my side, staring at my wall. I totally needed a hug, and my cat sure wasn't going to be giving me one anytime soon...
Of course there was a twist throughout the story, which I totally didn't see coming, but then I thought to myself "wow that is so true!" you just never know until it's too late, or standing on your face for you to notice it. I also really loved the scene where Finch and Violet are writing on the walls with their own messages.
Alright so now to those quotes that I mentioned earlier. Of course the whole book was very quotable, and if you follow me on Twitter, I posted a little quote from the book.
"Maybe no one else will ever visit them and appreciate them or take the time to think they're important, but maybe even the smallest places mean something. And if not, maybe they can mean something to us."
"Before I die I want to know a perfect day."
"The thing is there are good days and bad days. I feel almost guilty saying they aren't all bad."
"But I'm not a compilation of symptoms. Not a casualty of shitty parents and even shittier chemical makeup. Not a problem. Not a diagnosis. Not an illness. Not something to be rescued. I'm a person." <3
I also think that it was really cool for their assignment to Wander around their town to really see the beautiful things most take for granted. It was like their own eye opener, kind of revealing more of each other along the way. I really loved Finch and Violet, as they both suffered from their own issues, but together were the ones who kept each other balanced. I remember a part in the book where one of them said something about not being able to rescue them, but in reality they did. Sometimes having that one person who truly knows who you are and can connect with how you feel, make a huge impact in your life!
Overall I really loved the book. The writing was amazing, the story between the characters was filled with so much love it was undeniable. Jennifer Niven made you feel all the feels, open up to tough topics people try to stray from, as well as make you realize that even the most energetic or positive people may have deeper demons than they lead on. Lastly, I also really enjoy the aspect of the Sticky notes. A couple of Bookstagrammers including myself have made a post about anyone who comments will go on a post-it and on the wall. My post is still on my Instagram page, so feel free to leave any comments behind!!
I also want you all to know that if you ever feel like you need to talk, don't hesitate to send me an email, and of course contact 1-800-273-TALK (National Suicide Prevention Lifeline) and to quote from my amazing Blogger and Best Friend @Floralsndragons: "You have a voice, YOU ARE WORTH IT. Don't be afraid, don't hide. Speak"
So that is all for my review on All The Bright Places. I know it was more of a touchy subject rather than my more witty reviews, but like any book, the emotions are real, and sometimes it takes just one book to make a huge impact. I really appreciate all of you who have read this, and I really encourage you to go and read this book!
So until the next time! Keep Reading!
Your Graduated Bookworm!! :)