Keeping You Away (Lawton Ridge Duet Series #1)

Author:
Kennedy Fox

Published:
July 2020

Publisher:
Kennedy Fox

Format:
E-Book

Pages:
278
Rating:
4.5/5

Summary:
The last time I saw my little sister's best friend, I was a soldier transitioning into civilian life and she had just graduated high school. We fell hard and fast for each other but it didn't stop me from leaving at the end of the summer.
Fast forward twelve years—I'm an ex-convict, her dad's my new boss, and now she's my co-worker. I'll have to see her every day as if being back in my hometown isn't torture enough.
I should walk away from her but this time I can't.
Gemma breaks down my walls and exposes the deeply rooted pain I've hidden. Old sparks quickly reignite, but I tell myself it means nothing—it can't—especially since she's engaged to another man.
KEEPING YOU AWAY is a slow-burn, angsty second chance romance with lots of small-town, Southern drama. It's book 1 in the Tyler & Gemma duet and must be read first.
Review:
Okay, so you don't have to read them in order, BUT I highly recommend doing that simply because it makes the reading experience way better! This is the first duet in Kennedy Fox's Lawton Ridge Duet series, formerly known as the Ex-Con Duet series. Their covers have also had a face-lift, so this is the original which I have. The title is the same, so you'll still be able to find it!
Alright... this book is intense. I clearly have a thing for suspense, angsty slow-burn romances, because this had me on the edge of my seat! You do get a glimpse of Tyler from the Roommate Duet series, as he knows Liam. Again, you don't have to read it in order, but if you do, then you'll get a little sneak peek of him before his story comes to be!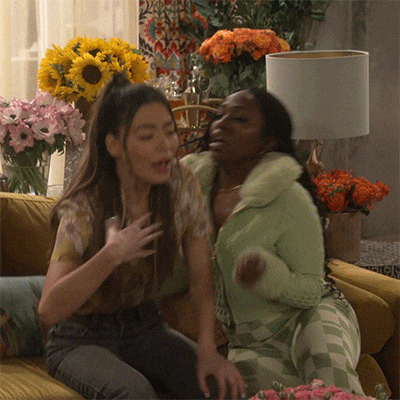 Honestly my emotions were all over the damn place. It's been 12 years since they were around one another. Gemma has always been in love with Tyler, but as the novel progresses you get to see how the choices he made years ago changed her. I really loved that you see them reconnect and I was waiting for that shoe to drop, because in any Kennedy Fox fashion... a duet screams cliffhanger and boy was it ever a cliffhanger!

Let's take a quick second to talk about Robert. If I could have reached into the damn book myself and slapped him across the face, I would have! He is the one you'll hate, and as you read more you'll find out why. UGH! Although Gemma has moved on, you know he's not right for her and every time he is in a chapter I just want to ring him a new one! LOL
So because this is a slow burn, it obviously takes time for these two to rekindle the relationship they used to have. Although they try to deny any more feelings... it's damn near impossible. Be glad that book 2 is out, because that cliffhanger really hit everyone and having to wait for the next book was torture!
Overall, I really enjoyed Tyler and Gemma's first half of their story! It was fast paced, a definite page turner, and left me wondering how TF they were going to get to their HEA!
That's all for my review, be sure to check it out and get your copy of their duet to enjoy!
So until the next time, keep reading!
Your Graduated Bookworm! :)