How To Potty Train Your Porcupine
Author: Tom Toro
Publisher: Little Brown For Young Readers
Published: May 2020
Format: Hardcover
Pages: 40
Rating: 5/5
Summary:
Two children bring home a pet porcupine, but they can only keep her if she's house-trained! After a whirlwind of increasingly zany approaches, the kids learn that sometimes the best way to solve a problem is to ask nicely. With Tom's wit and dynamic artwork, this delightful story about learning to pee will bring joy and heart to young readers.
Review:
First I would like to thank Hachette Book Group Canada for sending me a copy in exchange for an honest review!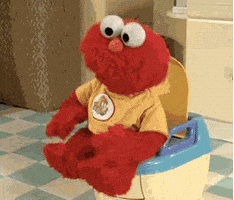 This obviously was a super quick read, but I absolutely LOVED it! I feel like this could be a book to read out loud in a group or to your kids. Definitely animated, and really funny, I think your kids would laugh out loud both at the writing as well as the illustrations!
Can I take a second to admire the Illustrations in the book too?! They were just on point, and I really loved how it all flowed so well!
I think for any of the older children, they would understand it a bit better in the aspect of potty training yourself. Like if a porcupine can do it... so can I!
Overall, this was a funny, quick read that I think all kids can enjoy both at home or in a group. The illustrations were great and humorous!
That's all for my review, I hope you enjoyed it, and be sure to check out my other reviews for Children's Books!
So until the next time, Keep Reading!
Your Graduated Bookworm!! :)