Please Don't Eat Me
Author: Liz Climo
Publisher: Little Brown
Published: October 2019
Format: Hardcover ARC
Pages: 40
Rating: 5/5
Summary:
When a carefree bunny is approached by a voracious bear in the woods, Bunny has just one request: "Please don't eat me."

But the bear has a never-ending list of requests, and Bunny realizes maybe Bear isn't as hungry as he'd let on...maybe he just wants his new friend's company for a while.

This witty and poignant exploration of predator and prey will have children and parents alike roaring with laughter--and looking for their next meal.
Review:
First, I'd like to thank Hachette Book Group Canada for sending me an advanced copy in exchange for an honest review! I've been loving the books they've been releasing lately, and this one definitely has been put on my top list for children's books!
I definitely loved this story! Of course with it being a children's story, it's a short and quick read! I personally think that this could be a great story when it's read out loud to a class using funny voices!
I loved how from the beginning all the way to the end, the bunny has one request and that's for the bear not to eat him. Whether he's looking for his own type of food to eat, or hanging around "friends" that could potentially make fun of him for hanging around a bunny and not eat him, the bear stays true to his word.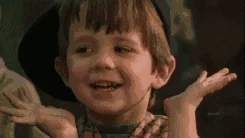 Let's talk about the illustrations. I thought they were simple but oh so cute! With the writing (Since it's just the bunny and bear dialogue only) and the illustrations together, this was such a hilarious children's novel to read! I actually found myself laughing out loud page after page as you see where the story moves along to!
As you're reading the story, you see the underlying message through the humor over the fact that the bear just wanted to have a friend, even if they aren't the same type of animal, it didn't matter to him. He just wanted someone to hang out with, and I think a story like this really shines through for kids to open up the conversation about making friendships and connecting with people that might not look like you!
Overall I LOVED this story! It was a hilarious story with a great message about friendships and the illustrations made it even more amazing! I definitely recommend picking this story up for your family, your classroom, or even gift it to someone!
That's all for my review, I hope you enjoyed it! Be sure to check this out when it's released in October!
So until the next time, Keep Reading!
Your Graduated Bookworm!! :)