Where I Belong (Alabama Summer #1)
Author: J. Daniels
Publisher: Createspace
Published: June 2014
Format: Paperback
Pages: 282
Rating: 5/5
Summary:
When Mia Corelli returns to Alabama for a summer of fun with her childhood best friend, Tessa, there's only one thing keeping her on edge. One person that she'd do anything to avoid.
Benjamin Kelly. World's biggest dickhead.
Mia hates him with a fury and has no desire to ever see him again. When she decides to start her summer off with a bang and finally give away her v-card, she unknowingly hands it over to the one guy that excelled at making her life miserable, learning a valuable lesson in the process.
Always get the name of the guy you're going home with.
Ben can't get the girl he spent one night with out of his head. When she leaves him the next morning, he thinks he'll never see her again. Until he sees her lounging by the pool with his sister.
Mia is determined to hate Ben, even though she can't forget him.
Ben is determined to prove he's not the same guy he used to be.
What happens when the one person you wish never existed becomes the one person you can't imagine being without?
Review:
So first, let me talk about the fact that I got to meet J. Daniels after being a blogger for a while, and it was truly amazing! She's so sweet, and I'll admit, the little note she left in my novel was absolutely hilarious... and spot on might I add! I was sitting in the car driving home from my road trip and literally laughed out loud, I was getting weird looks...
Okay so I totally don't want to be spoilery for those of you who haven't read this book yet (I know I slacked myself and hadn't read it until my road trip at the beginning of the year!) but there is SO MUCH that's going on in this book, and I seriously can't wait to dive into the rest of the series!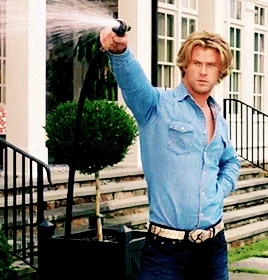 Alright, so can we take a moment and talk about how steamy this book gets?! Like talk about getting thirsty here! A whole lot of inches are plenty described in
this book, and the sexual tension you could feel in the air from beginning to end!
I think I lost count over how many times these two get quite intense with one another, and honestly I don't even mean just with the sex! Right from the start you can sense the hatred pouring out of Mia, and how much Ben was working to prove to Mia that he's not the same person he used to be, although when you're reading moments where she talks about the past, it's crazy to believe the two are the same people.
Apart from the obvious friendship Mia has with Ben's sister, there is another relationship that begins to bloom and it's just the cutest thing in the world! I don't think it's possible to not have this type of relationship go bad in any novel, but I loved how J. Daniels wrote this character into the novel. It was perfect, and oh so adorable!
"I can't imagine loving her anymore than I do right now, but I know I will. Because every second I'm with her, I fall harder."
Honestly there's not much else I can say about this book. It was sweet, funny, hot and definitely a roller coaster ride of emotion! I definitely can't wait to read the next book, because I've officially become invested in this family! It was a fast paced novel, and I couldn't stop reading it!
That's all for my review today, I hope you enjoyed it, and if you've read this series, tell me your thoughts! I'd love to hear them!!
So until the next time, Keep Reading!
Your Graduated Bookworm!! :)