Be My December (The Crawford Brothers #1)
Author: Rachel Brookes
Published: August 2014
Publisher: Smashwords
Format: E-Book
Pages: 357
Rating: 5/5
Summary:
I knew the exact moment I had become a 'yes' girl. December 16th, a cold winter's night, four years ago. The night my innocence was stolen, the night I made the mistake of saying no--a mistake I'd never make again. The dream of a 'happily ever after' was now a locked away myth. I promised myself that I'd never return to the place of my worst nightmare, that I'd never let anyone get close, but then again, I never thought I'd meet someone like him. The intense, confident and beautiful Ky Crawford.
I had no plans to become someones Prince Charming. I couldn't be. I refused to be. My plan was simple--do whatever it takes to correct my biggest mistake, my one regret that now controlled my life. I was back on track. I had plans, but then everything changed when I saw her--the girl in the red jacket, the girl who I was told couldn't say no. The reserved yet stunning Eden Rivers.
A girl who cant say no.
A guy who craves redemption.
A chance encounter?
It all comes down to this.
One question.
One month.
Be My December?
My Review:
MY OH MY! Let me get my fangirling self together before I start this review. I think I told almost everyone I know a dozen times how much I LOVED this book, and how they all needed to read this. Now I am extending that right onto you! Stop what you're doing and pick this book up, because it will take you on one hell of a ride! It does contain mature subject matter, so I only recommend this for anyone 18+. Thank you to Rachel for sending me this book for an honest review! I loved it!!
This story is about an innocent girl who was loving life at college, until one fateful night, it all changed for the worse. Eden Rivers was a girl who had everything going for her. That is until the monster of a man called Jeremy Davis came and destroyed everything she knew and thought about the world, love, and life itself. Rachel Brookes starts off even before the story starts. Her Dedication page. Reading those lines, I knew that I was going to be part of a wild adventure filled with heart-wrenching pain and love.
You dive right into the story, getting acquainted with Eden and what happened to her four years ago in December. Was anyone there to save her? Could she get away? Was there such thing as living a life after trauma, anxiety and depression? There are invisible scars etched across her body, and secrets she tried so hard to hide from the rest of the world. That is until Ky Crawford spotted her across the room. I was drawn to every word written on the page, and I found myself now reading on the bus (When I pretty much NEVER do that). I was caught many times blushing from the very intense romantic scene, as well as pain in my chest from all of the pain Eden went through...that's right, Ugly Crying commencing at max power!
Throughout the novel, you can feel a strong bond, not only between Eden and Ky, but also between their close friends and family. Josh (Ky's brother) stuck by both of their sides no matter what the costs were, and Ashlyn (friend to both the Crawford's and Eden) knew what to do and what to say at the most crucial moments of the novel. From the beginning, you get that Ky is super protective, but it also made him the knight in shining armor. Always there when you needed it, yet battling his own demons inside. The relationship between Ky, Josh, and Ashlyn is very strong, and humorous at times. I found myself laughing at some of the things that both Ashlyn and Josh would say to Ky.
There were times when I was reading this, where I actually felt it hard to read. Only because of the descriptive dialogue that Brookes wrote. All of the details surrounding Eden and that horrific night was not something you took lightly. When you get towards the end of the novel, you get more of a realization and understanding of what Eden really went through, as well as that Jeremy is one sick and twisted man. It made me feel at times as if the story was REAL! Having to read what she went through, fueled a sort of rage/anger inside me hating Jeremy from the very beginning. There were times, when I felt as if I was part of the story, that I wanted to track Jeremy down wherever he may be and just let him have it!
Throughout the novel, you really get more into the modern language and use of technology. I really liked the aspect of bringing in current lingo and tech use into novels, as it brings real life closer to fictional ones. Adding in Fangirl, Kindle, The Walking Dead, and selfies throughout this novel really made it seem more current and lifelike. I'm sure by now you think I'm a little crazy, but these characters have been stuck in my brain since the day I started reading it, and still after I read the last line.
So of course with an amazing story like this, there were A LOT of quotes that stood out for me. Here are a few that made an impact one way or another, either for me or the story itself.
"They say that the toughest things happened to those who the universe believe could handle it."
"You were meant to be my December Eden, but you've become my absolute everything."
"Eden Rivers was a new beginning, she was a closing door to my own battles and the injection to my heart that made it beat with life again."
"I might have been his December. But we would be each other's forever."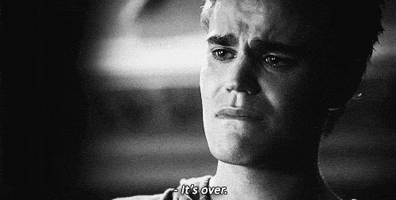 Overall I found this novel to be utterly amazing. Rachel Brookes did a great job to tackle a hard topic, most fear of discussing, and turning it into a marvelous story. And one that I believe will help people who are suffering in their own ways. The writing style was on point, and the attraction between characters was undeniable. I was definitely on a roller coaster of emotions, going from hating, to loving, to heartbreaking, to passionate. Ky had a sexy protectiveness that he possessed throughout the novel, and in the beginning, I could see it as a little over the top, but once you understood his reasons, he made it okay. Just before the ending, there is a scene where Ky has a one on one with Eden's father and mother separately. You automatically felt a loving bond between them, and I absolutely loved it!
I really didn't want the story to end. It was a bittersweet conclusion to an amazing, heartbreaking yet powerful story.
And that is my review for Be My December by Rachel Brookes. I hope you all enjoyed it, and I definitely recommend checking it out!
So until the next time, Keep Reading!
Your Graduated Bookworm!! :)