Author: Sophia Gholz
Published: September 2021
Publisher: Running Press Kids
Format: Hardcover
Pages: 40
Rating: 5/5
Summary:
Discover the true story of iconic American painter and TV host Bob Ross in this official picture book biography.
Bob Ross continues to inspire young and old alike with his public television painting program, "The Joy of Painting," almost 30 years after the show went off the air. Bob Ross fell in love with painting and wanted to inspire others to find joy in their happy accidents. Follow his footsteps toward becoming a TV painter icon in this delightful and reverent picture book biography of a gentle soul who loved painting and teaching others how to paint too.
Review:
First I'd like to thank Hachette Book Group Canada for sending me a copy in exchange for a review!
Okay so if you know me at all, you know I've always enjoyed painting as a kid and into adulthood. It's one of the many things I enjoy doing and I've always loved Bob Ross paintings too.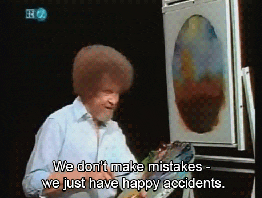 So this is a children's book, and I would say it's more on the older child side, as it talks about Bob Ross' life. But even so, you learn about his story and how he became the legendary Bob Ross himself. The way he speaks about painting and life is great, and although this might be meant for children to read... this can definitely be for anyone who loves Bob Ross!

I really loved the illustrations within the book as well as the painting terms at the back for people who are wanting to learn more about it! I do think you could extend on this story as well, especially with the terms in the back of the book for children to learn even more with colours, art, and painting. Looking at nature and finding anything that could be turned into a painting.
Overall I highly recommend getting this for anyone who loves Bob Ross, anyone who loves painting, and children who love to express themselves!
That's all for my review, I hope you enjoyed it! Be sure to check it out, this would make a perfect gift!
So until the next time, keep reading!
Your Graduated Bookworm!! :)