Welcome back Bookworms to another Empowered Wednesday!! Today I get the pleasure to feature someone who not only is a bookworm, but gets to make other book lovers like me excited for new releases, book signings, and of course Reading their books!! So let's get on with it shall we??
Q: Can you tell our readers about yourself and what you do?
A: I'm Ashley! I work in Digital Marketing at HarperCollins Canada. I run some social media channels including @hccfrenzy and @SavvyReader, and work on digital campaigns, websites, influencer relations, and more!
Q: How did you first get into publishing and when did you decide to take the leap and go for it?
A: When I found out that there were actual programs you could take in Book Publishing, I was so excited! When my offer for Centennial College came in, I accepted it immediately. Working in digital marketing in the publishing industry allows for tons of creativity, and it's a lot of fun!
Q: Who or what inspired you to do what you are doing now?
A: My love of books! There's nothing better than being surrounded by books and spending your days talking about books. I've loved books since I was a little kid and working in this industry is a dream come true!
Q: What would be your ideal working environment?
A: The one I'm in now! And the beach!! Honestly anywhere surrounded by books.
Q: How would you describe your style with social media and publishing?
A: I definitely like to have fun with writing (especially social media posts!) So I use a lot of GIF's and humour when possible/when it works, and basically anything that'll catch a reader's attention in a flooded news feed.
Q: What is one thing you wish you knew starting out with the publishing industry or something you could have told your past self?
A: I think it's always important to remember—no matter what it is you're doing—that things take time and nothing will just be handed to you! You (almost always) have to work to be successful and stay positive (even when it's really hard to).
Q: How much time do you spend in publishing and is it a hobby or job?
A: Through the blogging I do for my job, I spend almost every day doing it. Technically it's part of my job, but I love doing it. It's so fun to write about something you genuinely enjoy, and then share it with a bunch of people who are probably going to enjoy it, too!
Q: What do you do in your spare time?
A: Read! No, seriously ;). And watch TV, EAT, hang out with friends, go to the beach, take pictures, ski, did I say eat? Read?!
Q: If you were stuck on an Island what would be the three things you would want with you?
A: My phone, my boyfriend (does he count as a thing?), and a never-ending supply of books.
Q: Can you name some of your favourite bloggers/authors/shops and explain why they're your favourite?
A: Oh yes, I can, and I can go on forever and ever. I'm going to stick to YA authors for this: Becky Albertalli (because her books are amazing and she's the sweetest human!), Angie Thomas (because The Hate U Give made me see the world in a whole new light and realize the power that authors have), Sarah Dessen (because she was the first YA author I ever read and loved!)**That was the exact same for me!!**, Victoria Aveyard (first fantasy author I ever read, and she's genuinely an awesome person)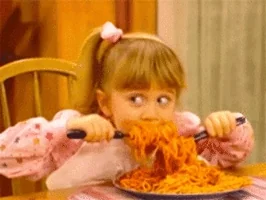 Q: What would be your go to meal, outing and Starbucks/Tim Horton's Drink?
A: PASTA for sure, I'd go (almost) anywhere but I'm partial to the beach and/or anywhere with food, and COFFEE, please!
Q: Kiss, Kill and Marry:
(Uncle Jesse from Full House, Jake Ryan from Sixteen Candles, and Jess Mariano from Gilmore Girls)
A: Kiss: Uncle Jesse (though I feel slightly creepy about this…)
Marry: Jess Mariano
Kill: Jake Ryan
Q: What sort of advice can you give to anyone out there that's thinking about starting a blog/novel/shop?
A: Just do it! If it's something you're passionate about, your dedication to it will come naturally. Set goals (with dates!) of what you hope to do with your platforms/novel/shop and try your best to stick to them. Make schedules that you know you'll be able to follow. But don't let it take over your life! It won't be fun if it starts to feel like a burden and taking away from other things you love.
Here's Where You Can Find Ashley!
That's all for this week's Empowered Wednesday's! I hope you enjoyed this new feature! Check back here next week where a brand new creator will be featured on the blog!!
So until the next time, Keep Reading!
Your Graduated Bookworm!! :)