The Hate U Give
Author: Angie Thomas
Publisher: Balzar+Bray
Published: February 2017
Pages: 464
Format: ARC Paperback
Rating: 4.5/5
Summary:
Sixteen-year-old Starr Carter moves between two worlds: the poor neighborhood where she lives and the fancy suburban prep school she attends. The uneasy balance between these worlds is shattered when Starr witnesses the fatal shooting of her childhood best friend Khalil at the hands of a police officer. Khalil was unarmed.
Soon afterward, his death is a national headline. Some are calling him a thug, maybe even a drug dealer and a gangbanger. Protesters are taking to the streets in Khalil's name. Some cops and the local drug lord try to intimidate Starr and her family. What everyone wants to know is: what really went down that night? And the only person alive who can answer that is Starr.
But what Starr does or does not say could upend her community. It could also endanger her life.
Review:
First, I really want to say a huge thanks to the amazing people over at Harper Collins Canada for sending me an ARC copy to review. Believe me when I say that I wish I had finished this much earlier, because this giant book slump has been dragging me down for a month...
BUT this book was something else, and I honestly don't even know how best to describe and understand. Right from the beginning there is nothing to sugar coat what happens, and honestly I was shocked but also very happy that Angie Thomas wasn't shy about anything. And I think that's what really drew me into the story.
While reading I loved and appreciated the fact that the writing was authentic. I know many people say they didn't really like the writing style, or that it was poorly written, however I feel like yes it could have been stronger, but the way that everything was written had more of an impact than something that would normally have been so "Clean" or "Formal". When you're reading about Starr and her life, it's exactly as she should say things. You see where she struggles to be herself and a cleaner version for the people she goes to school with, and in the end I really loved how her own personality came through.
Now I will say that there were certain moments where I felt like parts could have been shortened, or where they slowed down. At the same time, it was totally intense from beginning to end that I kept going past those slow moments! I honestly couldn't believe the things that Starr and her family were going through, and I one hundred percent felt those emotions as I was reading!
"Sometimes you can do everything right and things will still go wrong. The key is to never stop doing right."
Starr honestly has had a roller coaster ride throughout the novel, but you really see where her close and important people are. Of course she has her family, but I mean those friends that have always been there, the ones you don't always see but are always there. And don't get me started on Chris! OMG was he ever something else. Honestly I loved the dynamic between Starr and him, along with Starr and Seven and Chris and DeVante! I don't think I've laughed so much over something so simple as a game, and laugh at the way they all talk to one another, it was just so light during the heavy moments.
Seriously though, this book definitely touched a lot of taboo topics, or topics that people have never been comfortable to really discuss because it ends out more negative than good. I felt like this book just completely broke down those doors, and I personally feel like this is a book that should be used in schools for learning, regardless of the language, because let's be honest, this is society today...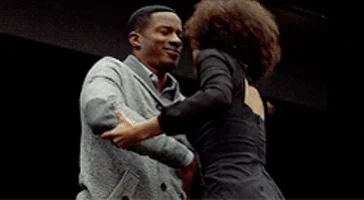 Of course I found some more quotes that really spoke through...
"Funerals aren't for dead people. They're for the living."
"The hood trio, tighter than the inside of Voldemort's nose."
"Because there will always be someone to fight."
More towards the end, I found myself reading this book much faster with more intense things happening, that I had to catch myself and remember it was just a book. Another thing that really was an eye opener was all of the real facts, and realistic scenes that I am positive have happened more than once. I also loved the little "dedication" of all the names you get (mini spoiler here sorry) because it's just another way to show how many people affected.
Overall this book was pretty great. It talked and dealt with real things in society, things that we try to hide, or shy away from. Angie Thomas was able to make a huge connection to so many people within this novel that will leave you with a lasting impact!
That's all for my review today! I hope you enjoyed it, and definitely check it out!!
So until the next time, Keep Reading!
Your Graduated Bookworm!! :)