Girl Talk: Words Every World-Changing Girl Needs To Hear
Author: Katie Zeppieri
Publisher: Make Your Mark Enterprises Ltd.
Published: July 2015
Format: Paperback
Pages: 122
Rating: 4.5/5
Summary:
Turn on any news station and you will see a glimpse of some of the challenges out world is facing: hunger, poverty, disease, war and environmental changes, just to name a few. Young people, both boys and girls, have the power t fix these problems in our world. But girls today have problems of their own. Our image-obsessed society tells girls that they are not skinny enough, pretty enough, or talented enough to change the world. It's no wonder girls are struggling with their self-esteem and self-worth. It's time to make a shift.
What the world needs more than ever are changemakers-young people who are committed to making the world a better place. We need girls who are less worries about thigh gaps and more worried about the difference they are making in the lives of others. GIRL TALK speaks to girls growing up in a society filled with pressures and encourages them to see that they have the power to make the world a better place each and every day, right where they are.
A great resource for educators and parents.
Review:
So I first just want to say that I actually met Katie in person one day randomly. I had just gotten off of work, and a family member wanted to do some holiday shopping, and I was so tired, but reluctantly said yes. Since we were in the mall (which I barely go to) I decided to stop into Indigo-of course!- and saw that there was a booth and an author! It was total luck that I happened to go in, and I was so happy to purchase a copy of this to read, as it really related to myself in the beginning stages of my blog!
So right off the bat I found that this novel really dove into what it's all about! I mean I felt myself slowly becoming more empowered after reading this! Personally I felt like this was intended more for a younger age of girls who are still in elementary and early high school, however it could be said to anyone (not just girls) specifically about going after your dream. Of course I'm all about girl/women empowerment, because it's so important for girls to believe that they can accomplish anything, but at the same time anyone can accomplish their goals if they set their mind to it! I loved how much Katie really dove deep into telling girls ways to become a GOAL-DIGGER and to be a metaphoric Tree where you are grounded yet continue to grow and reach for the sky...
"Be Bold. Be Brave. Be Anything But Ordinary."
While reading, the book is separated into ten different chapters. At the end of each chapter, there are questions and then a challenge of the week. I really loved that aspect, and although I had a little challenge to answer some of the questions, it really made me think more about society!
Personally, I felt like there were moments where I felt like it was more of a presentation than a normal everyday conversation between two girls having "Girl Talk". I mean I definitely was more informed about things I didn't really know, but I felt like it could have been a little less of stats and more about real instances.
Throughout I really did learn more about Katie and her life growing up and how she became the woman she is today...and I LOVED IT! I loved how personal she really got, to make you feel as if you were meeting for the first time! Honestly, just listening to her story alone really made me more accomplished in how I wanted to grow as a blogger, and really made me think about my future more!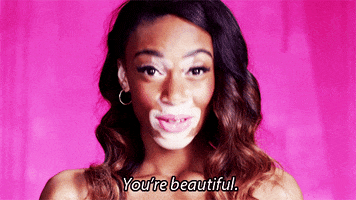 Of course while I was reading this, there were some great quotes that stood out for me that really captured the novel!
"By keeping myself preoccupied with my passions and interests, the social pressures couldn't overtake me and I could focus my energy on building a life of extraordinary leadership."
"Every person experiences trials and challenges. It's how we choose to use them to change the world that separated us as leaders."
"We are given certain challenges in life so that we can grow into a person we are meant to be by overcoming them."
Overall I really enjoyed this book! It was filled with a lot of inspiring information, and definitely made you think more about society and ways we all can make a change. I personally have already thought about things that I had planned on doing even before reading this book, and after finishing it, I am even more than excited about what I plan on doing! Honestly, it starts with one person and a dream to make a change, and that's exactly what Katie did, and I am so incredibly inspired by that!
So that's all for my review of Girl Talk! It really doesn't matter who reads this, because it's all about inspiring girls and women to believe in their self and to know that likes, hearts, and numbers really don't matter.
So until the next time, Keep Reading!
Your Graduated Bookworm!! :)