Light in the Shadows (Find You in the Dark #2)
Author: A. Meredith Walters
Publisher: Gallery Books
Published: July 2014 (originally May 2013)
Format: Paperback
Pages: 366
Rating: 5/5
Summary:
How do you keep going when you feel like your life is over?
Maggie never thought she'd see Clay again. So, she attempts to put her life back together after her heart has been shattered to pieces. Moving on and moving forward, just as Clay wanted her to. Clay never stopped thinking of Maggie. Even after ripping their lives apart and leaving her behind to get the help he so desperately needed. He is healing...slowly. But his heart still belongs to the girl who tried to save him.
When a sudden tragedy brings Maggie and Clay face-to-face again, nothing is the same. Yet some things never change. Can the darkness that threatened to consume them be transformed into something else and finally give them what they always wanted? And can two people who fought so hard to be together, finally find their happiness? Or will their demons and fear drive them apart for good?
The thing about love is even when it destroys you, it has a way of mending what is broken. And in the shadows, you can still see the light.
Review:
Yet another book/series that had me going through the motions! I swear I should not be reading good books like these right before I go to work. It's like I'm stuck in this book hangover, and as much as I'll say it, I know that my co-workers must be annoyed with my constant book talk! #sorrynotsorry!
Light in the Shadows is the second novel in the series, and it did not disappoint! There was one part in the beginning where I was getting a little annoyed with Maggie and Clay. It seemed like they just could not live without one another, and it felt very much like Bella in Twilight (those months passing by-You know what I mean!) and it just wasn't really entertaining at that point. Ann Hathaway knows how I'm feeling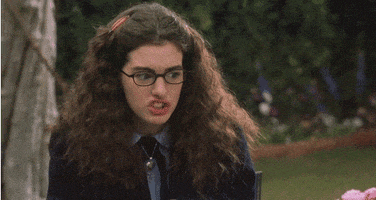 But as quickly as that depression period happened, it ended. I was really happy about the fact that I got to read more about Clay and everything that he had/has/ and continues to deal with. From the first novel, you really get into Maggie and how she went through her first real love, but not so much about Clay and his own issues. Clay really shines through this novel, and for once you are getting a perspective of the male point of view without actually repeating the story over like some authors have done. Instead this story continues right from the ending of Find You in the Dark without hesitation.
The writing of this novel was definitely like the last. I love the style of it, as well as the beauty of this relationship regardless of how toxic they both were to each other. Maggie was just a normal girl who never dared to live until she met Clay. Once he became part of her life you could see her become stepped on, rolled over, tossed aside, and washed away with the tide from a whirlwind of love, hate, and sacrifice. In this novel you get to see how much Clay really went through things. He suffered through so many hardships, and although he had bad habits I really like the fact that he finally used a hobby to cope with it all rather than his usual way..
So on top of all the emotions that they both went through, the author decided to bring on some more disaster just to make it worse for these characters. Throughout the novel, I felt really bad for Clay and Ruby, and all I can say is that I completely understand what it's like to lose someone. The emptiness, sadness, lack of desire, as well as not wanting to be around anyone, even if it's for the best. It takes something from you, and for most people like Ruby and Clay, there is nothing you can really do to make it okay...
When Maggie and Clay are finally in a room alone again since the last novel, I could sense a lot of emotion flowing through the two of them, even across the room. When they finally talked it all out, and they let one another become raw and honest, all I could do was keep reading. There was a quote that Clay says, and it completely sums up the entire series, as well as gutted me from the inside. SO much power written in a paragraph...
"This time, I didn't cut. I didn't think of some way to end things so I'd never have to feel this way again. Instead, I clung to my girlfriend. The person who had always been my light in the shadows and who continued to love me even at my worst. Who reminded me that everyone deserved love, even me"
COME ON! Just that quote right there had me like this....without the ice cream unfortunately...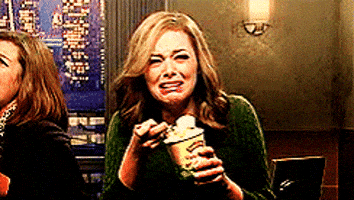 Overall I loved this series. It had everything you could imagine and more rolled into a book that I feel should have been more than almost 400 pages. The love, the hate, the raw undying emotion that still had flames even when someone threw water on it before it had the chance to fully ignite. I also love that this book could be read by a teenager or an adult, because not once did I really feel like this story was based from high school students...that's how amazing the relationship was. It just goes to show that sometimes, your love may be right in front of you, and it may not be a smooth sailing ride, but that someone will always be there for you no matter what. The story line was great. The love was almost unbearable with it's power, and once again I was caught ugly crying on my bed with a beautiful ending... and yes I was happy with the outcome!
So that is all for my review of Light in the Shadows. I really hope you enjoyed it, and I definitely recommend it to anyone who is interested in a romance that's not 100% stereotypical.
Until the next time, Keep Reading!
Your Graduated Bookworm! :)