Love Her Wild
Author: Atticus
Publisher: Atria Books
Published: July 2017
Format: Hardcover
Pages: 225
Rating: 4/5
Summary:
The first collection of poetry by Instagram sensation Atticus.
Love Her Wild is a collection of new and beloved poems from Atticus, the young writer who has captured the hearts and minds of hundreds of thousands of avid followers on his Instagram account.
In Love Her Wild, Atticus captures what is both raw and relatable about the smallest and the grandest moments in life: the first glimpse of a new love in Paris; skinny dipping on a summer's night; the irrepressible exuberance of the female spirit; or drinking whiskey in the desert watching the rising sun. With honesty, poignancy, and romantic flair, Atticus distills the most exhilarating highs and the heartbreaking lows of life and love into a few perfectly evocative lines, ensuring that his words will become etched in your mind—and will awaken your sense of adventure.
Review:
So I totally read these out of order, but honestly it was super easy to read through this book of poetry. It's a fast paced book, and of course all the poems are quotable so I won't paste a bunch on this review!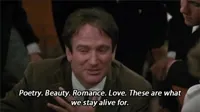 Personally I couldn't connect too much to the poems throughout the book, although there were moments that I thought I could relate to.
From beginning to end, this book gets sectioned off, which I really love, as well as all the photos that were linked to each poem.
"It's not the fear of losing them that scares us, it's that we have given them so many of our pieces that we fear losing ourselves when they are gone."
"It didn't matter that she fell apart, it was how she put herself back together."
Honestly there isn't much to say other than the fact that if you're looking for some inspiration, something that you can connect to, something that resonates with you and your life, this is one to grab!
Overall this was a good read, super quick and definitely some deep moments that had me thinking about love and life itself.
That's all for my review, I hope you enjoyed it and be sure to grab a copy!
So until the next time, Keep Reading!
Your Graduated Bookworm!! :)