Habits (Greyford High #2)
Author: Anna B. Doe
Published: March 2019
Publisher: Anna B. Doe
Format: E-Book
Pages: 354
Rating: 4/5
Summary:
How can something so wrong feel so good?

Senior year.
Three girls. Three guys.
Secrets and lies.
Demons of past and present.
Old insecurities and new fears.
One more year left to pretend.
One more year to wreck it all.
The countdown begins.

All Jeanette Sanders wanted to do was escape her past and forget everything that has happened. Coming to Greyford was supposed to be her new beginning, a clean slate. Only it seems like her past doesn't want to let her go. As her old insecurities start to return in full force and lies grow bigger than ever, the only thing left is the hope that her broken heart will survive this time around.

Andrew Hill has been betrayed one too many times in the past. Cynical and cold-hearted, he closed off his heart for good and doesn't plan on letting anybody in ever again. Especially women. But his heart doesn't seem to care and starts beating faster every time a particular black-haired beauty gets in his way and puts him in his place.

He wants her body, not her heart. She tries to resist him, but the pull is too much.

They know they're all wrong for each other, but some habits are too sweet to give up.
Review:
First, I would like to say thank you to Anna B. Doe for sending me a copy in exchange for an honest review. Personally, I gotta say that this book was better than the first book in the series, and I definitely enjoyed the fact that it was really relatable!
From the beginning, I did find it to be a slow start, and sometimes it's hard to tell how old they are based on the language they're using, however it does pick up and boy does the drama get going!
Let me say that there was a moment were all these truth bombs were coming out and I definitely wasn't prepared for it, because damn! It sure comes at you hard! When you're reading more about Andrew and his own personal life, part of you feels like he's a big dick, but then at the same time, you can't help but feel a little something towards him...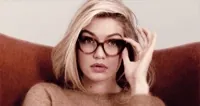 I also love how you get more of an understanding with Jeanette's past and how sometimes their habits were harder to break when the connection between the two of them is so apparent! I also loved how at the end of this all, you've got a group of guys on a hockey team who want to hate one another but can't, and the girls who've formed a bond from the beginning! Now I just can't wait to read more about Max, because he sure needs his own book!
Overall, this was a good read. I felt like it was better than the first book, and I felt more connected with the characters this time around and that there were a lot of relatable moments that people can connect to. Personally I felt like there could have been a bit more to enhance this series, but overall it was good!
That's all for my review, I hope you liked it, and be sure to check it out if hockey teen romance is your thing!
So until the next time, Keep Reading!
Your Graduated Bookworm!! :)