Welcome back Bookworms! Today I've got a different post from the norm, but it's definitely a topic that I've been thinking for quite some time now. In collaboration with today's post, we've come up with some reasons why going to a library is still a great option in this modern age!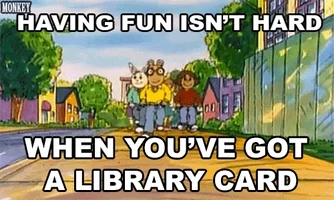 A lot of people find that the Internet and modern technology can offer a lot of convenience with basic things such as finding and reading books which is so
true! I find myself constantly going through social media and Goodreads to see what's new and must reads for the year! Whether it's a fictional book, study-related books or even books in other languages, we can typically find anything we need online.
As such, many people have stopped going to libraries as their primary source of books and information. However, it's not just the collection of books that makes a library worth visiting...
1. It's free
Sure, you can get eBooks for cheap and lots of free information online, but if you're looking for a specific book that is quite expensive (common for research titles) then you can rent it for free from a library, saving you a lot of money. There are also a lot of libraries now (Probably all of them) where you can actually rent out e-books, music, movies, shows and so much more!
2. It's quiet
If you've ever found yourself wanting a peaceful and quiet place to work, then a library is a fantastic option. I personally have an office space at home and even then, sometimes I just need to get out of the house to somewhere quiet where I can focus on my work or book, and It's definitely helpful!
3. There are local events
Many libraries act as meeting spots for all kinds of events. For example, your local library might host culture days or even book signings for famous authors. As an educator, I also know that the library hosts many events for parents as well as classes to come and visit for programs, fun events and tons of new books to check out! Head to the help desk, and you'll be able to find out more information on these kind of events that take place.
4. Discover something new
Libraries are places of discovery. Finding new knowledge, discovering new books and even meeting new people is common when you visit a library. (And if you're old school like me, maybe even meet "The one" there!)
Thanks to the University of Southern California, this awesome infographic about the history of famous libraries shares some cool facts and reasons why you should consider visiting them in the future. Hello Library Road Trip!
Infographic: University of Southern California
I know it's been a hot minute since I've been into a library, but I remember those days like it was yesterday. And with the technology today, there are even more ways and reasons to visit a library now! So now the question is... Are you checking out your local library today?
That's all for my post today, I hope you enjoyed it and feel free to tag me in your photos on Instagram if you visit your local library!
So until the next time, Keep Reading!
Your Graduated Bookworm!! :)