Size Matters (A Perfect Fit #1)
Author: Alison Bliss
Published: November 2016
Publisher: Forever Romance
Format: Mass Market Paperback
Pages: 294
Rating: 4.5/5
Summary:
The rules of (fake) engagement . . .
Leah Martin has spent her life trying to avoid temptation. But she's sick of low-fat snacks, counting calories, and her hyper-critical mom. Fortunately, her popular new bakery keeps her good and distracted. But there aren't enough éclairs in the world to distract Leah from the hotness that is Sam Cooper - or the fact that he just told her mother that they're engaged . . . which is a big, fat lie.
Sam sometime speaks before he thinks. So what started out as defending Leah's date-ability to her judgmental mother soon turned into having a fiancee! Now the plan is to keep up the fake engagement, stay "just friends," and make Leah's family loathe him enough to just call the whole thing off . But Sam has an insatiable sweet tooth, not only for Leah's decadent desserts but her decadent curves. Her full lips. Her bright green eyes. Yep, things aren't going
quite
according to plan. Now Sam has to convince Leah that he's for real . . . before their little lie turns into one big, sweet disaster.
Review:
I would like to thank the amazing people at Forever Romance for sending me a copy of this in exchange for an honest review! This was definitely a hilarious read, and I couldn't stop reading it! To be honest, I'm not entirely sure where to start because there's just SO MUCH I want to say without throwing the book in your face!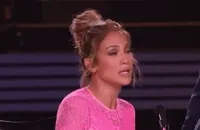 From the beginning, you get the sense that Leah really hates her body. Yet at the same time, she's also comfortable in her own skin...to some degree. With the way her mother constantly talks about her weight, I know I wanted to just reach my hand inside the book and B***h slap her mother right in the face! What really bothered me so much while reading this was the fact that Leah just couldn't defend herself. Like this was just a normal thing in her household that she accepted anything and everything that was said to her or about her.
Another thing was when it came to her and Sam, she really brought herself down so much as if she weren't good enough for him to really have any sort of feelings towards her. Her self-esteem was truly so low, it was underground, and she needed someone or something to dig it back up in order for her to feel and know her self-worth again.
Alright, other than that there was A LOT that I was loving with this novel! Apart from it being super hilarious, I felt like there were many times that I could connect with Leah. The way that she felt when she was around people, while also seeing how much she really did care for other people was immense.
Holy Steamy-ness I can't even! Let me tell you a girl clearly knows how to get down, and they sure did...plenty of times if you know what I mean. Apart from it being super heated between the two, you can see the pure and raw emotion that they show for one another even if they're too stupid to actually use their words to show it!
"You may not know this, but my worth is not measured by my hip size."
From the beginning to the end, you could see that Leah was truly growing and becoming more into her own skin, while also being a bad-ass bakery owner! I thought it was cute that she was paying him in anything chocolate... I mean who doesn't love chocolate?!
What had me both laughing out loud (Literally!) and also cringing were the moments that Sam and Leah were around her family. The way that they both were acting around the family was HILARIOUS! And right at the very end there was a little bit of a *twist* that happened and I could not believe the way it came about. Even though their efforts really didn't work out, you could see that Leah's family is definitely not normal. Especially her brother. Now he deserves to have his own novel, because some of the things he threw out into the conversation were the perfect zingers at the perfect moments!
There were a few other quotable moments that I found inside the novel that really spoke with the characters, and the novel itself.
"Because he hated that she didn't know how beautiful she really was."
"What do you do when you fall in love with your fake fiancé?"
Overall this was a fun, light-hearted and hilarious book! It was definitely a roller coaster ride of emotion, and the push and pull between Leah and Sam was although frustrating at times, it showcased that size really doesn't matter and whatever your heart is telling you, sometimes you just take the leap and go for it!
That's all for my review today, I hope you enjoyed it and be sure to add it to your Goodreads if you're looking for something light, witty and packed with a whole lot of sass!
So until the next time, Keep reading!
Your Graduated Bookworm!! :)