99 Days
Author: Katie Cotugno
Publisher: Balzer + Bray
Published: July 2016 (First Published April 2015)
Format: Paperback
Pages: 400
Rating: 3/5
Summary:
Molly Barlow is facing one long, hot summer—99 days—with the boy whose heart she broke and the boy she broke it for . . . his brother.
Day 1: Julia Donnelly eggs my house my first night back in Star Lake, and that's how I know everyone still remembers everything. She has every right to hate me, of course: I broke Patrick Donnelly's heart the night everything happened with his brother, Gabe. Now I'm serving out my summer like a jail sentence:
Just ninety-nine days till I can leave for college and be done.
Day 4: A nasty note on my windshield makes it clear Julia isn't finished. I'm expecting a fight when someone taps me on the shoulder, but it's just Gabe, home from college and actually happy to see me. "For what it's worth, Molly Barlow," he says, "I'm really glad you're back."
Day 12: Gabe wouldn't quit till he got me to come to this party, and I'm surprised to find I'm actually having fun. I think he's about to kiss me—and that's when I see Patrick. My Patrick, who's supposed to be clear across the country.
My
Patrick, who's never going to forgive me.
Review:
First, I would like to thank Harper Collins Canada/ HCC Frenzy for sending me a copy of 99 Days in exchange for a review. Personally I don't think that this was necessarily my type of book. There definitely were some aspects that we quite enjoyable, and entertaining, but I just couldn't for the life of me get really into the novel and invested in the characters...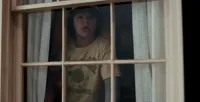 So from the beginning, you get the understanding of feel that Molly really isn't well liked anymore in this town she called home. Between the eggs, notes, and just overall vibe from people that she used to call friends, clearly shows how quick people can turn on you. I mean it was her fault, but her mother made it way more worse that it should have been, so for me, I at least had some sympathy over the fact that Molly's life was publicized over the world.
From the beginning to the end, the drama never stops. This girl is constantly repeating her mistakes over and over again, it's like she never learned the first time! I felt like this story could have moved around differently and still ended up at the place it was when the book ended. I found myself sometimes being a little bored and had to push myself through it.
"Like a storm at sea clearing, like a hurricane calming down."
There were definitely some moments that I felt all kinds of swooning happening. When it was just Molly and Gabe, you really can feel the connection and the type of relationship that everyone wants. But when you have a scene with Molly and Patrick, it's like "Girl, what did you ever think in this guy?! How could you possibly want any of that?" and she actually touches on the parts that she loved and parts that she noticed that Patrick wasn't her true love. Sometimes it takes a significant change in someone's life to see what's really the good parts and what things they can let go of.
I felt like when the ending came round, that's where a lot of stuff happens and it makes up for the rest of the book. Now if that could have happened earlier or some more significant drama other than "oh the town hates me" it would have made it far more interesting. It's also such a double standard. Like it takes two people to tango (If you get that reference) and I felt like Molly got way more hate over everything than either of the boys did!
"Patrick shakes his head and we're both on the verge of tears then, like we've finally destroyed each other, finally eaten each other alive."
Overall this wasn't my favourite for sure. I just think that this story didn't have much happening to keep me wanting more, and I felt like repeating mistakes make it feel re-used. Molly definitely deserves a giant glass of "get yourself together" because she needs to move on from these brothers and just get over this high school town drama.
That's all for my review today, I hope you enjoyed it! Like always, Just because I don't enjoy a book, doesn't mean you won't either, so if it sounds interesting to you, then go pick it up, and tell me your thoughts below!!
So until the next time, Keep Reading!
Your Graduated Bookworm!! :)