Disarm: The Complete Novel
Author: June Gray
Published: February 2014 (First Published in 2013)
Publisher: Berkley
Format: Paperback
Pages: 376
Rating: 4.5/5
Summary:
When the secrets of the past begin to surface, the truth can be disarming…
Twenty-six-year-old Elsie Sherman has had a crush on her brother's best friend, Henry Logan, since she was twelve years old. Unfortunately, Henry—now an Air Force officer—has only ever treated her like a younger sister, stepping into her brother's shoes after he was killed in action.
That is, until the night when one dance ignites a sensual fire between the two, leaving Elsie aroused and confused. Is she allowed to lust after her surrogate big brother, who also happens to be her roommate? As the passion between them crosses the line into a territory that teases with the forbidden, Elsie decides to give herself to the man she has always desired. But Elsie is not prepared for where the relationship will take her.
Henry has been harboring two secrets. One can bring them closer together. The other will tear them apart. Now, with each startling new revelation, Elsie realizes that only she can decide if the past can ever be forgiven—and if a future with Henry is worth fighting for.
Includes a never-before-published bonus short story.
Review:
First, I should totally apologize for taking so SO LONG to write this review and finish this novel. I kept getting hit with road blocks, life, and just reading slumps. Nothing to do with the book, just I wasn't really in the mood for reading (Shocking, I know!!)
Okay, before I dive into my review, I should probably explain a little something about this book. So a long time ago, I found Disarm in stores, and I had heard good reviews of it, so I picked it up and put it to my TBR. After meeting @Floralsndragons online and then becoming best friends, I recommended the book to her (without even reading it yet). Doesn't she go ahead and get the book, finish it in a day, and literally have a twitter conversation with June Gray herself. Little did I know that there were other friends who have read it, and for two years straight I was told to read this book already!! So I finally was able to pick it up and read it and I'm so glad I did!!
So right from the beginning, you get a full (FULL) understanding of who Elsie and Henry are, their relationship to some extent and then dive right into some real serious scenes. Honestly, I totally understand Elsie with growing up with Henry and him taking on the Big Brother role, even though she totally crushed hard on him! The feels were definitely real, and I totally connected with her on that aspect...man having a brother's friend or friends around so much...it's bound to happen!
Throughout the novel, you really see the strain that these two go through. Of course with the possibilities of relationships being tested, a lot of moving around, and a lot of the past coming to the present, Elsie continues to surprise me. I really felt like things were going to go so differently with her, and yet she somehow always bounces back and proves she is capable to hold her own. You see her in a way grow up, and as much heartache I felt with her and her relationship to her brother, she really develops into someone who is more sure (of course taking a couple steps back two after certain scenes) of herself. It obviously doesn't stop the feelings that she fights the entire time, which you totally can't help but feel them too!
Moving on, I need to take a moment to address the elephant in the room... holy sex scenes! This is definitely not a book you should read in public (Trust me, I learned that the hard way) because there are so man scenes that get very hot and heavy from lust, love, anger, despair, and so much more.
From start to end, Henry is clearly dealing with his own demons, and although he is harboring into an uncharted territory, you see him grow (physically and emotionally) into someone that I couldn't get out of my head even if I tried! I swear the entire time, I was just imagining that I was Elsie, because DAMN HENRY!! I mean who doesn't love a man in a uniform??
Because this is the complete novel (a combinations of parts) I really loved reading "The Henry Sessions" because you really dive more into Henry as a person, you learn more from his past--which clearly define who he is, and made me love him that much more--and all the little things that build up together to create their outcome. It was all in Elsie's point of view except for that little part, but it was actually a really effective way of getting his story out in a unique way!
"But these fantasies were nothing but the daydreams of a girl who then grew up to realize that the boy of her dreams was far from perfect."
I really loved reading this, and although I kept stopping with reading it, I found it to be really fast paced. There were a couple twists and scenes that I really did not expect to come out, and obviously I can't spoil it for you, but I definitely recommend reading it! It left me with a mix of emotions, and I really don't know what is going to happen in the next book!
You really see the pain that they both deal with in regards to everything! Between each other, their families, jobs, friends, past, present and wonderment about their future, your heartstrings really get pulled, and the feels are strong! I found myself actually getting frustrated with both Henry and Elsie over certain things that happened, but the ending...ahh! The ending not only was so adorable, but it still left me wanting so much more!!
Here are some quotes that really stuck out for me while reading the book:
"There's nothing more beautiful than the way the ocean refuses to stop kissing the shoreline no matter how many times it's sent away."
"We all get confused about ourselves but we don't go hurting those we love just so we can get some clarity."
"And just then, when I was certain I had fallen in love with a complete stranger, was the moment that I finally began to understand him."
"You were the goodness and light when my life was so full of darkness."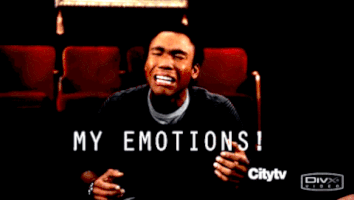 Overall, I really loved this book! It was fast paced, it gave you SO MUCH yet was able to leave you wanting so much more! There were a lot of moments where their story felt so real, and at the same time, had me wondering what was really going to happen. It was a push and pull, pure and raw emotion between these two that gave you all the feels! I can honestly say (especially after reading the author's note) that there are so many men and women who go out to fight for our countries and leave behind loved ones to pick up the pieces, and that requires a great amount of strength.
That's all for my review of Disarm! I hope you enjoyed it (And my Henry Gif!) and I am definitely telling you to go pick up your own copy!!
So until the next time, Keep Reading!
Your Graduated Bookworm!! :)