See No Evil (Brotherhood #1)
Author: Jordan Ford
Publisher: Jordan Ford Books
Published: October 2016
Format: E-Book ARC
Pages: 244
Rating: 4.5/5
All Christiana wanted was a little flirty fun.
What she got was a one-way ticket to her own personal nightmare.
Her friend is dead…and she knows who did it. Now a key witness in a murder trial, she's been hidden away in the one place no one will think to look for her: Eton Preparatory School for Boys.
It's a stupid move. Insane. But she doesn't have a choice.
Instead of completing her senior year with the popular crowd, she's being forced to hide in a school with exactly zero XX chromosomes. Even worse, she's somehow supposed to act like the Neanderthals walking the halls.
But then she meets the guys next door—the smoking-hot ones. And it doesn't help that one in particular could unravel her in a heartbeat… and potentially blow her cover. How's she supposed to resist Trey Calloway, the star hockey player who never backs down from a fight…and who never takes no for an answer?
She's supposed to be focused on staying safe, not on the guy who's getting under her skin. Her chilling past isn't going to suddenly disappear.
In fact, it might just be catching up with her.
So I received this ARC for an honest review, and to be honest, I am never disappointed with what Jordan Ford comes out with!! Yet again we are filled with a crazy story with characters that have a deeper past...and of course hot guys!
This novel was honestly jam packed with so much happening in such a short read, I sped through it, devouring every single detail written! Let me say that if you're a fan of She's The Man, then this will probably give you that crave! Honestly, I LOVED the aspect of a girl whose hiding out in an all boys school, pretending to be one of them. How many of you have ever felt like becoming a fly on the wall where you know you shouldn't be?? That's exactly what Christiana was experiencing, even if it wasn't by choice!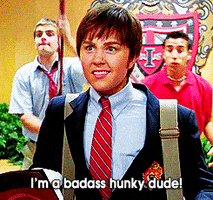 So throughout this story, you really dive right into this story immediately, and it just takes you on a magical journey like the flying carpet in Aladdin...okay maybe I'm being a little dramatic, but seriously, it was such a thrill, and never seemed to die down whatsoever! There were definitely moments between Christiana and Trey that I found to be pretty comical! I obviously can't explain much...because Spoilers, but it was just hilarious!
So you know that moment where you're reading a book, and scenes just kind of unravel, and explain so much more, or reveal parts to other characters? Yeah there was a lot of that...and was it ever AMAZING! I don't even know how to explain certain scenes without giving much away, but I have to say that there's a shower scene as well as a couple scenes in the dorms which will have you feeling all kinds of things; love, hate, anger, lust, comedy, shock, anticipation...need I go on??
Moving on, HELLO HUNK-FILLED DORMS! Of course you know me to get a little fangirlish when it comes to hot guys in novels, but I mean the entire novel is based around an ALL BOYS SCHOOL! So it's only natural that when you've paired three guys who live right next door, who are all extremely attractive, that things are going to happen... I mean Trey alone!
Alright, so obviously this novel has more than hot guys and a lot of comedy. When reading See No Evil, I found it to be full of anticipation and on the edge of my seat wondering if her secret was going to come out, and if the person who she saw murder her friend, was going to come after her. It was almost as if I was constantly looking around me, because I felt like I was right there within the story! Personally I love what Christiana did, even though there were odds (and people) against her the entire time. I definitely felt like there could have been just a smidge more of something to make it that much better, however I cannot even put a name to what that would be, as this is already an amazing read!
So throughout this novel you really see more of the relationship of Trey and his "Brothers" who are his roommates. I am super excited to see the next two books in this series as it will branch off into both of their own stories! You can also really see how much all of them are willing to do for the other. Trey, Christiana and the roommates have this undying bond between them that goes much farther than contraband and the evil Ivan. It's so apparent how much love, trust, and honor they all have for one another!
So while reading this, I of course found a couple quotes that really resonated with me:
"Stubborn indignation made me defy my mother.
Righteous anger made me squeal on Ivan.
Fear made me push Mr. Adler.
And desperation made me kiss Trey."
"Family doesn't have to be blood to be family."
"I'm kissing her because she's finding a home inside of me."
From beginning to end, it was a roller coaster ride! From sneaking around, to learning how to ensure the "man card" was always present, I could not put this book down! It was so fast paced, with a lot of twists coming at you, all the way until the very end! I really loved the underlying messages that were present in this novel about love, family, and honor. There was comedy wrapped all around it with a lot of hot males, that overall made this a pretty great read! I seriously cannot wait to read book two, and the cliffhanger was SO REAL!!
That's all for my review of See No Evil by Jordan Ford! I really hope you enjoyed it, and I am definitely telling you to pick it up, as it's pretty awesome!
So until the next time, Keep Reading!
Your Graduated Bookworm!! :)